Luís Botelho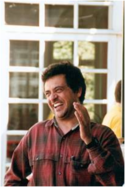 Graduation: Electrical Engineering; MSc thesis in Artificial Intelligence; PhD thesis in Artificial Autonomous Agents

Associate Professor; Member of the Department of Information Science and Technology (DCTI) of ISCTE-IUL since 1984; Coordinator of the Agents and Artificial Intelligence area of DCTI

Several PhD and MSc Supervisions, and several publications in Agents and Artificial Intelligence; Participation in several national and international agent projects; Currently affiliated in IT
Addresses:
www
mail
Date
15:30, Friday, March 15th, 2013
Room 336, INESC-ID
Speaker
Luís Botelho, ISCTE-IUL and IT
Abstract
After a short summary of my previous and present research and academic activity, I will explain the title of this talk and the reason it contains my major research concern: Is it possible to have artificial agents that can truthfully and meaningfully (for them) ask and answer questions such as "Do you mean it?". And, if this goal is possible, how can we directly contribute to achieve it? Perhaps as important as figuring out possible alternatives to contribute to this goal is defining tests that can measure the degree to which the goal has been achieved.
"What's natural language processing got to do with it?" is the question I'll comment on afterwards. I will continue by describing recent work on NLP and the major ideas for a project whose definition Ricardo Ribeiro and I have been working on.