Gerrit Bloothooft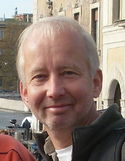 Gerrit Bloothooft works in the area of Phonetics and Speech Technology since 1978. He contributed to European educational networks in Language and Speech technology and was ISCA board member from 1997-2005. Over the years, his research interests moved from (singing) voice research to the application of speech technology and computational linguistics to data matching in the past.
Addresses:
www
mail
Date
10:00, Wednesday, April 17th, 2013
Room PA2, IST Alameda
Speaker
Gerrit Bloothooft, University of Utrecht, The Netherlands
Abstract
This talk will be about "Named-entity recognition in the past": the limited use of grapheme to phoneme conversion in this process, and possibilities to automatically learn variation in the spelling of names from rich historical data sources, such as full population vital registers.