Vasco Pedro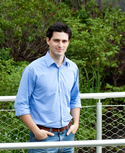 Vasco Pedro is an Invited Researcher at the Instituto Superior Técnico. His main area of research is in the field of computational semantics. Vasco holds a PhD in Language Technologies from Carnegie Mellon University and was the founder of Bueda, a semantic web startup in Pittsburgh, Pennsylvania. Most of his efforts have been focused on large scale semantic analysis and applications to social data.
Addresses:
www
mail
Date
11:00, Friday, March 2nd, 2012
Room 336
Speaker
Abstract
Social data represents an important aspect of human communication. More and more services rely on stream analysis but analyzing the content of those streams is difficult since most of the resources available for text analysis are not a good fit for social data. In addition, the amount of data requires a level of scalability that brings particular challenges In this talk I will give an overview of new techniques for social data analysis and current efforts for scaling analysis pipelines. Finally I will describe some of the practical applications of these technologies and how the technology is being applied in the market on a daily basis.

Note: This seminar will be held in Portuguese.