Philippe Boula de Mareüil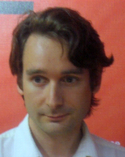 Ingénieur de formation, venant du traitement automatique et plus particulièrement de la synthèse de la parole, Philippe Boula de Mareüil est chargé de recherche en linguistique (depuis 2002), habilité à diriger des recherches en sciences du langage (depuis 2012). Après une thèse en informatique et trois ans passés dans le privé où il a travaillé sur la prosodie de différentes langues, il a intégré le LIMSI, dans le groupe "Perception Située" puis "Traitement du Langage Parlé" pour développer une thématique de linguistique de corpus oraux. Il étudie depuis quelques années les indices (tant prosodiques que segmentaux) les plus discriminants dans le traitement perceptif et automatique d'accents étrangers, régionaux et sociaux (comme l'accent dit "de banlieue"), ainsi que de différents styles de parole (lu vs spontané, contemporain vs datant des années1940-1950, etc.). Il est l'auteur d'un petit livre de vulgarisation sur les accents régionaux qui lui vaut d'être régulièrement interviewé par des journalistes de la presse écrite et audiovisuelle.
Addresses:
www
mail
Date
16:00, Wednesday, February 13th, 2013
Room 336, INESC-ID
Speaker
Philippe Boula de Mareüil, LIMSI
Abstract
The present work which focuses on regional, foreign and social accents in French, combines perceptual and acoustic approaches to account for variation due to speakers' geographic and (socio)linguistic backgrounds. It is based on large amounts of data, using measurement tools derived from automatic speech processing techniques to quantify certain trends. This work first aims at modelling identification and characterisation processes of regional and foreign accents in French. Perceptual experiments and acoustic analyses were carried out using automatic phoneme alignment, which could include pronunciation variants corresponding to Southern, Belgian, West-African, Maghrebian, English, German and Portuguese accents, among others. In total, over 100 hours of regional- or foreign-accented French were analysed. Some of the most discriminating pronunciation features, such as the realisation of nasal vowels in Southern French or the realisation of schwas (backed and closed) in Portuguese-accented French were ranked using automatic learning techniques. Since speech conveys both phonemic and prosodic information, the contribution of prosody to the perception of various accents was examined. The methodology included prosody modification/resynthesis techniques. The contribution of prosody was highlighted especially for the so-called banlieue accent, with a sharp pitch fall before a prosodic boundary. Modelling the production and perception of variation in speech is of major importance for understanding how language may evolve. Orientations for future work are proposed, to better take into account social factors especially and to link accents, speaking styles and expressive speech.