Online Communities Design Patterns
From HLT@INESC-ID
Pedro Custódio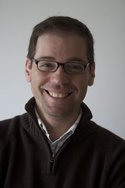 Pedro Custódio is 31 years old, living in Setúbal, Portugal, currently working as Head of Quality and Usability for SAPO.pt. Graduated in Computer Science Engineering, Artificial Intelligence. His graduation thesis was on Speech Acts here at L2F. He has been working on Internet related projects for more than a decade now: from software development and Intranet design always with special care for Online Collaborative Working Platforms.

He is particularly passionate about Usability, Knowledge Transfer Communities and Social Apps and from those passions he was involved in the organization of SHiFT - Social and Human Ideas For Technology, a gathering of 'technological' minded people in an effort to actually change the world (for the better) through technology!
Addresses:
www
mail
Date
15:00, Friday, July 04th, 2008
3rd floor meeting room, INESC-ID
Speaker
Pedro Custódio, SAPO.pt (slides)
Abstract
Once we progress from the User Centered Design to Community Centered Design we'll need to identify and gather a similar set of best practices regarding it's Community design. This presentation collects more or less the key features and interactions that a successful Community should display in order to empower their users and facilitate conversation between its members.
This presentation aims to be a bridge between Usability Best Practices and Community Centered Design, a practice that can maximize the networking and crowd effect under online user communities.