Giampiero Salvi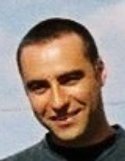 Giampiero Salvi holds a Ph.D. in Computer Science from KTH (the Royal Institute of Technology) in Stockholm and a M.Sc. in Electrical Engineering from "La Sapienza" University in Rome. He is currently employed as a Postdoc at the Computer Vision Laboratory, Institute for Systems and Robotics in Lisbon. He is also co-founder of the Swedish company SynFace AB.

Giampiero's scientific activity has focused on the statistical characterisation of speech sounds for automatic speech recognition and analysis. His main research interest include machine learning methods and signal processing.
Addresses:
www
mail
Date
15:00, Friday, March 28th, 2008
3rd floor meeting room, INESC-ID
Speaker
Giampiero Salvi, Vislab, ISR, IST
Abstract
In this talk I will present the activity at the Computer Vision Laboratory that can be of interest to the speech community. I will start by briefly introducing myself and my previous work at the Speech, Music and Hearing department, KTH, Stockholm. Then I will touch on a number of topics that are addressed mainly within the CONTACT European project. These include: sound localization, modelling speech development, imitation and word grounding. I will also describe a database that was recorded in cooperation with the CONTACT consortium, containing ultrasound and 3d articulograph measurements of the tongue in isolated words.