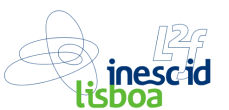 INESC ID's Spoken Language Systems Laboratory (L²F - Laboratório de sistemas de Língua Falada) was created in January 2001, bringing together several research groups which could potentially add relevant contributions to the area of computational processing of spoken language for Portuguese.
Upcoming seminars:
On December 3rd, 2010


Liliana Inverno will present Vernáculo de Angola – Estado actual de conhecimento e perspectivas de investigação futura

Past seminars:
On November 26th, 2010
Luís Marujo presented Text Simplification - State of Art
On November 5th, 2010
Daniel Santos presented Extracção de Relações entre Entidades
and
Diogo Oliveira presented Extraction and Classification of Named Entities
Open Research Position in projects PT-STAR and FalaComigo
Research Opportunities - The Spoken Language Systems Lab is looking for students interested in pursuing a PhD in Language Technologies. Post-Doc positions are also open. The typical PhD program in our lab is held in cooperation with international Universities (currently with Univ. Rochester, New York University, University of Pennsylvania). Cooperations are being established with École Polytechnique Fédérale de Lausanne and CMU.
Ph.D. Program CMU-PORTUGAL in the area of Language and Information Technologies - Deadline: December 15th, 2010
New Patent - The patent by João Neto and João Miranda on a new method for lexical model / language model composition for automatic speech recognition was recently approved.
In the News: miscellaneous news about our activities.