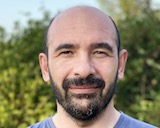 Site
Publications
Google scholar, List of Publications Publications by year
International Journals
2021
Azinhaes, J., Batista, F. and Ferreira, J. C. (2021) eWOM for public institutions: application to the case of the Portuguese Army. Social Network Analysis and Mining, 11(1):118. (URL) (BibTeX) (JCR) (view-only version: https://rdcu.be/cA3dd)
Nuno Miguel Guerreiro, Ricardo Rei and Fernando Batista (2021) Towards better subtitles: A multilingual approach for punctuation restoration of speech transcripts. Expert Systems with Applications, 186:10. (URL) (BibTeX) (JCR)
2019
2018
2017
Joao P. Carvalho, Hugo Rosa, Gaspar Brogueira and Fernando Batista (2017) MISNIS: An Intelligent Platform for Twitter Topic Mining. Expert Systems with Applications, 89:374 - 388. (URL) (BibTeX) (SJR) free access (valid for 50 days, until September 26, 2017) One of the winners of the 2018 edition of the ISCTE-IUL scientific awards
2008 - 2016
Edited Proceedings
Book Chapters
Conference papers also published as Book Chapters
As seguintes publicações correspondem a artigos aceites em conferências internacionais, em que um número restrito desses artigos foi aceite para publicação como capítulos de livro, ou na sua versão original ou como versão extendida.
Republished Papers
2019
Jose Moura, Fernando Batista, Elsa Cardoso and Luis Nunes (2019) Intelligent Management and Efficient Operation of Big Data. In Web Services: Concepts, Methodologies, Tools, and Applications (Information Resources Management Association, Eds.), pages 1991-2016. IGI Global. (BibTeX)
International Conferences
2022
Carvalho, Paula,, Matos, Bernardo,, Santos, Raquel,, Batista, Fernando, and Ribeiro, Ricardo (2022) Hate Speech Dynamics Against African descent, Roma and LGBTQI Communities in Portugal. In Proceedings of LREC 2022 - 13th Conference on Language Resources and Evaluation., . European Language Resources Association (ELRA). (BibTeX)
2021
2020
2019
Vera Cabarrao, Mariana Juliao, Rubén Solera-Ureña, Helena Moniz, Fernando Batista, Isabel Trancoso and Ana Isabel Mata (2019) Affective analysis of customer service calls. In 10th International Conference of Experimental Linguistics (ExLing 2019). Lisbon, Portugal, September. (Antonis Botinis, Eds.) ExLing Society, pages 37-40. (BibTeX)
Helena Moniz, Rubén Solera-Ureña, Vera Cabarrao, Mariana Juliao, Fernando Batista and Isabel Trancoso (2019) Affective computing based on acoustic-prosodic cues. 14th Annual INGRoup Conference (Interdisciplinary Network for Group Research), Interactive session: Frontiers of group interaction research - Promoting collaborations among social and computer scientists. (BibTeX)
2018
2017
2016
2015
2014
2013
2012
2010
Batista, Fernando, Moniz, Helena, Trancoso, Isabel, Meinedo, Hugo, Mata, Ana Isabel and Mamede, Nuno J (2010) Extending the punctuation module for european portuguese.. In Interspeech 2010. Mukari, Japan, pages 1509-1512. (BibTeX)
Helena Moniz, Fernando Batista, Hugo Meinedo, Alberto Abad, Isabel Trancoso, Ana Isabel Mata and Nuno Mamede (2010) Prosodically-based automatic segmentation and punctuation. In Speech Prosody 2010. Chicago, Illinois, May. (BibTeX)
2009
Batista, Fernando, Trancoso, Isabel and Mamede, Nuno J (2009) Comparing automatic rich transcription for portuguese, spanish and english broadcast news. In Automatic Speech Recognition and Understanding, 2009. ASRU 2009. IEEE Workshop on., pages 540-545, . IEEE. (BibTeX)
Batista, Fernando, Trancoso, Isabel and Mamede, Nuno (2009) Automatic Recovery of Punctuation Marks and Capitalization Information for Iberian Languages. In I Joint SIG-IL/Microsoft Workshop on Speech An Language Technologies for Iberian Languages, Porto Salvo, Portugal., pages 99-102. (BibTeX) Best Regular Paper Award.
2008
2000-2007
National Journals
National Conferences
Thesis
Batista, Fernando and Mamede, Nuno (2011) Recovering Capitalization and Punctuation Marks on Speech Transcriptions. PhD thesis. (BibTeX)
Batista, Fernando (2003) Análise sintáctica de superfície. Master's thesis. (BibTeX)
Other publications
Peer-reviewed presentations
Cabarrão, V., Moniz, H., Batista, F., Trancoso, I., Mata, A. I., Curto, S. (2014) "Discourse markers in spontaneous speech in European Portuguese: a first approach." Selected communication presented in the International Workshop - Pragmatic Markers, Discourse Markers and Modal Particles: What do we know and where do we go from here?, Università dell'Insubria, Como (Italy), 16-17 October, 2014.
Moniz, Helena, Ana Isabel Mata, Julia Hirschberg, Fernando Batista, Andrew Rosenberg, Isabel Trancoso (2014). Predição de proeminência prosódica com base no sistema automático AuToBI. XXX Encontro Nacional da APL. Porto, APL, outubro de 2014.